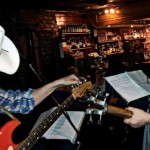 URBAND is a blues band from Stockholm Sweden, with influences from both country and jazz.
URBAND is a blues band from Stockholm Sweden and the repertoire contains orginal material as well as covers. Listen to examples here.
We like to play at the concert, club, wedding, garden party, festival, boat trip and so on.
In addition to our original material, we play songs by Bob Dylan, Kris Kristofferson, J.J Cale, Otis Rush, John Prine, Willy Nelson, Chuck Berry, Harlan Howard, Buddy Guy, Richard M. Jones and many more…
Songs like
One scotch One bourbon One beer by Amos Milburn
Life is a dirty deal
Watermelon time in Georgia by Harlan Howard
Tomorrow is a long time by Bob Dylan
One Room Country Shack by Buddy Guy
e.t.c..
Urban Haden on lead vocals and guitar. Urban Stalberg on bass guitar and vocals, Thomas Ostberg on keyboards and vocals and Mats Gerdin on drums.
If you need a troubadour please visit: http://trubadur-urban.se